Why study Chemistry Education at Washburn?
At Washburn, your career goals matter and our programs make them possible. If you want to be qualified to teach chemistry, there's a plan for that. This program is designed to get you ready for the licensing exams required to teach grades 6-12 in Kansas. Because Washburn University offers one of the strongest science education programs in the state, our graduates find rewarding employment at many grade-levels and schools.

Career Forecast

 

Growing Outlook

.

Average Salary

 

High school teachers: $55,170 in Kansas Middle school teachers: $58,010 in Kansas

on campus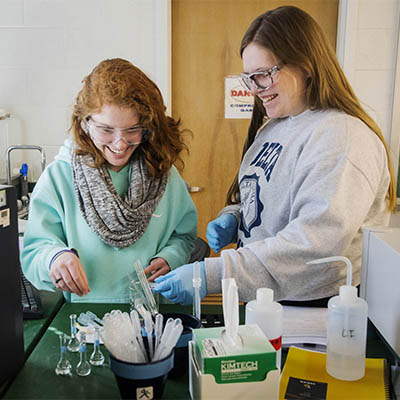 What sets Washburn Chemistry apart?
You'll train as a scientist and an educator. Every Washburn Chemistry graduate conducts research for at least one semester with a faculty mentor. Every Washburn Education graduate completes a semester of student-teaching and multiple field experiences.
You'll learn from professors, not graduate students.
You'll be eligible for scholarships and free tutoring (and you can get paid to tutor others, too.)
Chemistry Club is a great way to meet others with common interests!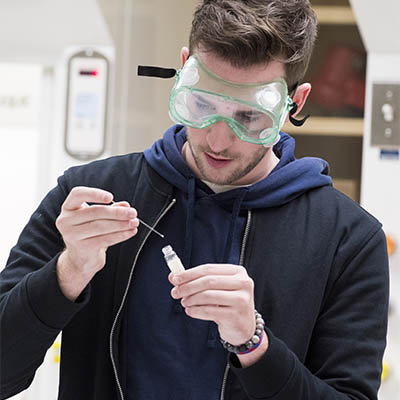 Admissions scholarships
Washburn University offers generous scholarships based on your interests, career aspirations, community service and academic success.
Chemistry department scholarships
You're eligible for a variety of scholarships based on academic performance and career pursuits in chemistry. Available for incoming freshmen, current and transfer students. Applications are due early in the spring semester for the following year.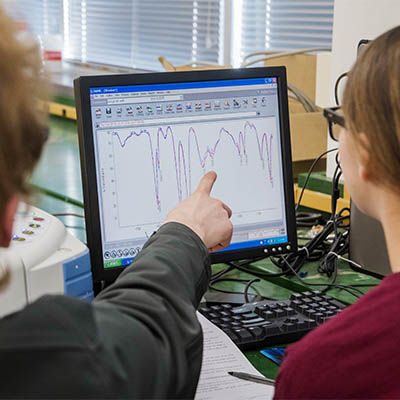 Tuition and fees
Classes part of the chemistry education program are offered as Traditional Undergraduate courses.
Financial aid
Washburn University offers generous undergraduate financial aid, including scholarships and grants.
Tuition waiver programs
If you don't currently live in Kansas, learn about our Tuition Waiver programs that may qualify you for in-state tuition.
Bachelor of Education in Chemistry Secondary Education

Declare major and apply to education program

It is common to declare a major in chemistry at enrollment and then determine your specific interest. In your second year you'll need to apply to the
Professional Teacher Education Program
. Admission to the program allows you to begin your teaching blocks.
Graduate and Licensure exams

You'll participate in
Education Interview Day
before graduation. Many students graduate with a job lined up. Plan to take the Praxis exams in your final semester.
Classroom teaching or graduate school

About half of chemistry education graduates continue to a graduate program.
Teaching Licensure Only:
This is right for you only if you already have a bachelor's degree.
Set for Success
CAREER FORECAST:
growing outlook
Employment of Middle and High School Teachers is predicted to grow about 4 percent from 2019 to 2029 according to the U.S. Bureau of Labor Statistics. The rate is as fast as average for all occupations.
Student/Faculty Ratio:
9

:

1 Education

 
16

:1

Chemistry
Qualities for success
Inquisitive
Persistent
Patient
Proactive
Develop strong skills
Broad chemical background
Critical thinking and problem-solving
Communication of scientific information
Hands on experiences with instrumentation and wet chemistry techniques
Program cost
Courses in this degree program are offered at the Traditional Undergraduate Rate.
GET IN TOUCH
WITH Department of Chemistry
Department of Chemistry
Stoffer Science Hall, Room 312
1700 SW College Ave
Topeka, KS 66621