Why study Political Science at Washburn?
There is no better place to study political science than a state capitol. Washburn's proximity to state government is idea for real world experience through internships, shadowing opportunities, and beyond. Because of the broad range of course work and skill-building, from critical thinking and analysis to research methods and strategies, this degree will prepare you for a career as a civic professional, or for advanced study in a range of fields.

Career Forecast

 

Growing Outlook

.

Average Salary

 

$126,930 depending on degree

on campus
What is Political Science?
Political Science is the study of governments, public policies and political behavior using both humanistic and scientific perspectives and skills to examine the countries and regions of the world.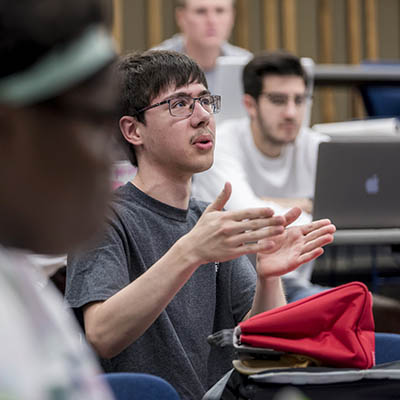 What sets Political Science at Washburn apart?
Washburn Political Science students are sought out for internships and other opportunities because of their knowledge and skill.
Experiential courses – from the Iowa Caucus to the UK's House of Lords – will give you a real-world look at politics at work.
Scholarships are available for incoming and returning students.
Study abroad with the department to explore government structure, comparative politics, and more. International study-specific scholarships are available through Washburn and the department.
Complete original research with faculty mentors, and present your research at international, national, or regional conferences.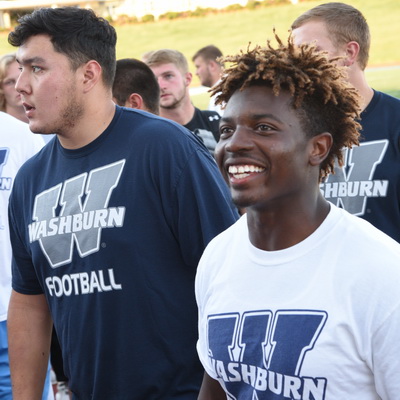 Admissions scholarships
Washburn University offers generous scholarships based on your interests, career aspirations, community service and academic success.
Political science scholarships
You're eligible for a variety of scholarships based on academic performance and career pursuits. Available for incoming freshmen, current and transfer students. Applications are due early in the spring semester for the following year.
Tuition and fees
Courses in this program are offered at the Traditional Undergraduate rate.
Financial aid
Washburn University offers generous undergraduate financial aid, including scholarships and grants.
Tuition waivers
If you don't currently live in Kansas, learn about our Tuition Waiver programs that may qualify you for in-state tuition.
4-Year Plan
A Bachelor of Arts in Political Science can be completed in four years. You'll have the opportunity to participate in a legislative internship program, study abroad or travel to the Iowa Caucus.
A required curriculum of twenty-five (25 ) credit hours consisting of:
PO106 The Government of the United States 
PO 107 Kansas and the U.S. State and Local Government 
PO 225 Introduction to International Politics 
PO 235 Introduction to Comparative Politics 
PO 308 Federalism and Public Policies 
PO 325 Advanced International Politics 
PO 335 Advanced Comparative Politics 
PO 390 Applied Political Research 
PO 450 Senior Seminar
A further nine (9) credit hours from the following upper division courses:
PO 371 Topics in American Politics and Government 
PO 372 Topics in Comparative Politics 
PO 373 Topics in International Relations 
PO 374 Topics in Public Administration 
PO 396 Topics in Applied Research 
PO 397 Advanced Applied Research
A minor consists of no less than 15 hours. Students must take PO 106, PO 107, and select 9 hours of additional courses 6 of which must be from upper division courses. Students must have a grade of C or better in each course applied to the minor.
A student cannot major in either political science or public administration and receive a minor in the other area.
Enroll at WU and declare major

It is common to declare a major in political science at enrollment and then determine your specific interest.
Study abroad or internship

You can study abroad once, twice, even three times as a Washburn political science student. You can also complete one or more internships. Work with your advisor to plan what's best for your goals.

Washburn Career Services
provides several career fairs and career-readiness workshops, including resume editing and mock-interview practice. Among graduates of the last five years, more than 3 in 5 graduate in four years.
Workforce or graduate school

Among graduates in the last five years, 45 percent have continued directly to graduate or professional school.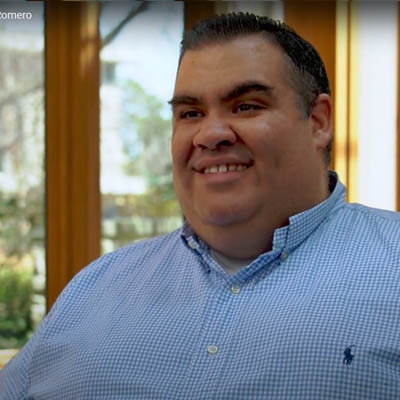 Political Science success story Angel Romero
Sometimes, your first choice isn't the best fit. Alumnus Angel Romero figured out that when he didn't get into the school he wanted to on the East Coast. Then a high school senior in Junction City, Kansas, Romero opted for Washburn.

"As luck would have it, I didn't get into the university I applied to, so let's give Washburn a try and see how that goes," he said. "And it ended up being the best decision I ever made."

Romero shined as an Ichabod, embodying the Washburn Experience in the classroom and in student life. He earned a bachelor of arts in Political Science, then transitioned to the School of Law, receiving a juris doctor degree.

After being heavily involved on campus and in the community while a student, Romero realized his passion was the help people. Today, he works as the vice president for resource development for United Way of Greater Topeka.

"All those things that come into play in my day job about communicating and problem-solving and thinking about community challenges," he said, "I can trace it back to my experiences I had at Washburn."

Romero also said Washburn's small class sizes (60 percent of the courses have 20 or fewer students) are one of the reasons a prospective student should become an Ichabod.
Set for Success
CAREER FORECAST:
growing outlook
Student/faculty ratio
14:1
Common internship sites
City government
Kansas Governor's Office
Kansas Legislature
Non-profit agencies
Complete in four years
45%
Program cost
Courses in this program are offered at the Traditional Undergraduate rate. Students are eligible for scholarships and financial aid.
GET IN TOUCH
WITH Department of Political Science
Department of Political Science
Henderson Learning Resource Center, Room 215
1700 SW College Ave.
Topeka, KS 66621