Digital Forensics Degree Program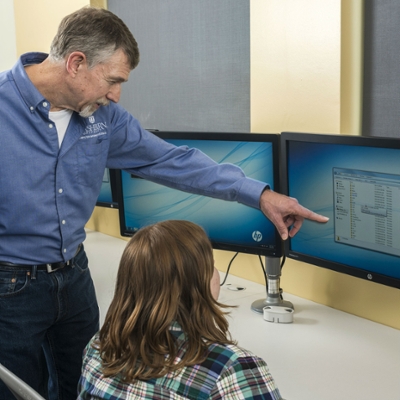 Today's criminal investigations rely more than ever on advanced science and cutting-edge technology. And behind those investigative methods are trained professionals with a keen eye for detail and a relentless passion for finding the truth. At Washburn University, you can prepare to become a key member of a law enforcement team by harnessing the power of technology to ensure that justice is served.
Digital forensics is a branch of forensic science devoted to the collection and analysis of evidence from electronic devices in relation to cyber crime. From identifying computer files and analyzing browser history to perusing cell phone records and monitoring computer network traffic, professionals in this field have played a key role in solving some of the biggest crimes in recent memory.
Students who are interested in studying digital forensics at Washburn University can earn a Bachelor of Arts in computer information science with a concentration in digital forensics. In this digital forensics degree program, students learn to preserve, extract and analyze digital evidence in addition to software development, networking and database management. You'll gain the skills it takes to work in a wide range of careers in rapidly growing fields, such as law enforcement, the financial sector, software development and beyond.
Digital forensics is a growing field that promises many career opportunities in the future. This degree will prepare you for a number of exciting careers. In a law enforcement context, digital and computer forensic investigators examine computers and mobile devices seized in a criminal investigation. They keep meticulous records of what they find and sometimes appear in court to testify as to the nature of the evidence and the techniques used to recover it. Some digital forensics experts are used by defense attorneys or appear in court as expert witnesses for either the defense or the prosecution.
In addition to occupations that examine computers, there is a need for forensic experts in corporate environments. Experts in digital forensics also are knowledgeable in areas that relate to recovering data that has been accidentally or deliberately deleted or obscured. They are able to recommend policies that will improve security and conduct incident response investigations when a corporate crime has occurred.
In addition, the skills learned in this degree are applicable to a wide range of IT-related fields. A successful graduate also can find employment in fields related to software development, maintenance and testing, and the variety of fields that support these activities.
Get Started Today
If a future in forensic science seems like a fit for you, there's no better place to start than Washburn University. Our faculty and staff are ready to support you throughout your degree program to help prepare you for a rewarding career in the field of forensics. Contact us or schedule a campus visit today to learn more about our digital forensics degree program! PHONE: 785.670.1739