Forensic Investigation Degree Program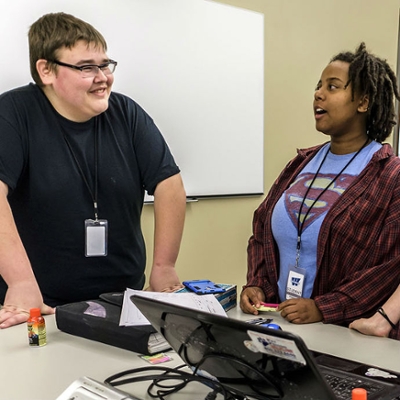 At Washburn University, you won't just read about forensic criminal investigation and how investigators analyze crime scenes. You'll learn in a hands-on, unique environment that mimics the real world. Our forensic investigation major allows you to use the same types of tools and equipment that professional crime scene investigators utilize – all under the supervision of experts who have years of experience in the field.
In Washburn's Bachelor of Science in criminal justice program an emphasis in forensic investigation, you'll complete specialized coursework designed to prepare you to work as a crime scene investigator. Many of these classes take place in the Crime Laboratory of the Kansas Bureau of Investigation (KBI), located on the Washburn University campus. Built in 2015, this unique space offers a vehicle bay for identifying and processing evidence, a crime scene reconstruction room, and an outside space secured and dedicated for other forensic activities.
In addition to state-of-the-art laboratory and research space, our partnership with the KBI also allows you to learn from the KBI scientists serving as adjunct instructors or by working alongside them as an intern. Access to the latest crime scene tools and equipment, coupled with instructors who have years of experience in the field, yield a learning experience that is second to none.
Receive real-world training and participate in simulations using state-of-the-art technology.
Gain experience and use the same tools and equipment utilized by law enforcement.
Learn from highly-qualified faculty who hold advanced degrees and years of experience in law enforcement.
Enjoy small classes, which encourage student participation and individualized attention.
Explore forensic internship opportunities with KBI and various local, state and federal law enforcement agencies.
Pursue scholarship awards to support study abroad experiences, scholarly activity, leadership or community service.
Professional development is a cornerstone of our criminal justice program. Opportunities for internship placement are diverse and encompass local, national and international employers, including:
Kansas Bureau of Investigation (KBI)
Kansas Highway Patrol
Topeka Police Department
Bureau of Alcohol, Tobacco, Firearms & Explosives (ATF)
Shawnee County Sherriff's Office
U.S. Secret Service
Kansas Fire Marshall's Office
Federal Bureau of Investigation (FBI)
Get Started Today!
Learn from professors with years of practical work experience in CSI and other forensic-related areas, and graduate career-ready with skills in evidence identification, collection, and analysis that will make you a valued part of an investigations team. Our faculty and staff are well prepared to guide you in pursuing your education and career objectives. To learn more about our forensic investigation degree program, call or visit us today! PHONE: 785.670.1411