Why study Religious Studies at Washburn?
Religious Studies is the major for you if you want to understand people better, yourself as well as others. In your classes, you'll study the ways religion shapes peoples lives, past and present, from the local to the global. You should major in religious studies if you want a liberal arts degree that gives you advanced skills in critical thinking, intercultural competency, and communication. The focus on analysis within this degree means religious studies majors are among the top performers on GREs and LSATS, so the degree with prepare you for a variety of post-graduate opportunities: law school, graduate school, or seminary.
Career Forecast
 

Growing Outlook
.
Average Salary

 
$56,560
on campus
What is Religious Studies?
Because religion is everywhere in human experience, studying it provides a foundation for engaging with and appreciating people of all backgrounds. Ultimately, religious studies majors develop a toolkit for understanding human beings in light of their ultimate concerns and the particular contexts in which they live.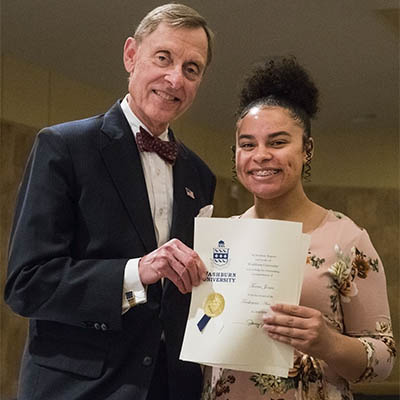 Admissions scholarships
Washburn University offers generous scholarships based on your interests, career aspirations, community service and academic success.
Religious studies scholarships
You're eligible for a variety of scholarships based on academic performance and career pursuits. Available for incoming freshmen, current and transfer students. Applications are due early in the spring semester for the following year.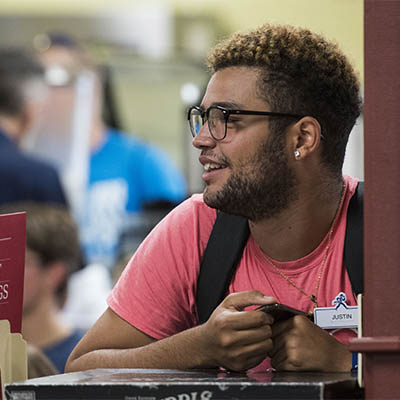 Tuition and fees
Courses in this program are offered at the Traditional Undergraduate rate.
Financial aid
Washburn University offers generous undergraduate financial aid, including scholarships and grants.
Tuition waivers
If you don't currently live in Kansas, learn about our Tuition Waiver programs that may qualify you for in-state tuition.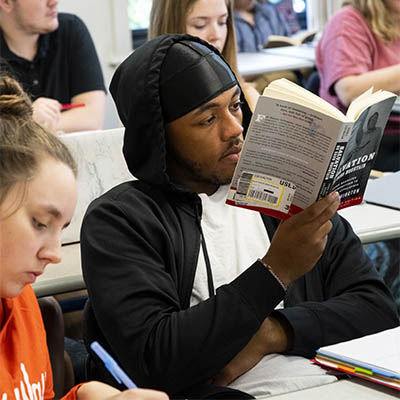 What sets Religious Studies at Washburn apart? 
Your courses will be taught by experienced and dedicated faculty, not graduate students.
Religious studies is a small program, so all students benefit from hands-on advising and close mentoring from faculty.
Scholarships are available for incoming and returning students.
As a religious studies major you can double major or participate in the Law Early Admission Program with Washburn Law. A pre-seminary focus can be designed with your advisor as well.
Experiential learning opportunities with classmates and faculty let you study people and their religions on the ground.
Use your senior thesis to pursue original research in any area of religious studies with guidance from faculty mentors. Present your research at international, national, and regional conferences.
Enroll at WU and declare major

Fill out the Undergraduate Admissions Application and enroll to pursue religious studies.
If you know you want to double major or that you want to participate in the LEAP program, or you plan on attending seminary, tell your advisor right away.

Religious Studies majors – even those who choose to double major –can complete their degree in four years. You'll complete an original research capstone, and may choose to take an independent internship in a field of interest.

Washburn Career Services
provides several career fairs and career-readiness workshops, including resume editing and mock-interview practice.
Workforce or graduate school

Graduates are now working in local and regional businesses and state government, or pursuing graduate study in law or other fields.
4-Year Plan
A Bachelor of Arts in Religious Studies can be completed in four years. You'll take 33 credit hours in religious studies and write a Senior Thesis in your final year.
The requirements for the major in religious studies consist of the following:
RG 101 (3): Introduction to Religion
RG 102 (3): World Religions
PH  100, 202, 203, or 207 (3): Search for course descriptions in the catalog.
PH  301 (3): I Think Therefore I Am? Modern Philosophy 1600-1800
RG 331 (3): Understanding Religion
RG 398 (3): Senior Thesis Research
RG 399 (3): Senior Thesis
Twelve (12) additional credits

At least nine must be RG courses
At least nine must be upper division
External courses require advisor's prior approval
Religious Studies majors desiring to earn departmental honors must successfully complete the college requirements for departmental honors.
Set for success
CAREER FORECAST:
growing outlook
Our graduates are respected for
Critical thinking and information literacy
Oral and written communication skills
Intercultural competency
Student faculty/ratio
13:1
Ready for anything
Religious Studies graduates are now working in local and regional businesses and state government or pursuing graduate study in law or other fields.
Program cost
Courses in this program are offered at the Traditional Undergraduate rate. Students are eligible for scholarships and financial aid.
GET IN TOUCH
WITH Philosophy and Religious Studies Department
Philosophy and Religious Studies Department
Morgan Hall, Room 206
1700 SW College Ave.
Topeka, KS 66621