TouchNet provides you with another layer of security
To provide you with a higher level of security against theft of credit card information via hacking, Washburn has outsourced online credit card processing to TouchNet, which has provided our online payment portal for several years. A service fee is charged by TouchNet to cover credit card interchange fees (for instance, fees charged to merchants by Visa, MasterCard and other credit card companies) and the cost of providing the additional security over credit card information.
Please note that for credit card payments, TouchNet charges a service fee of 2.95% of the amount being paid, with a minimum fee of $3, to cover the processing cost.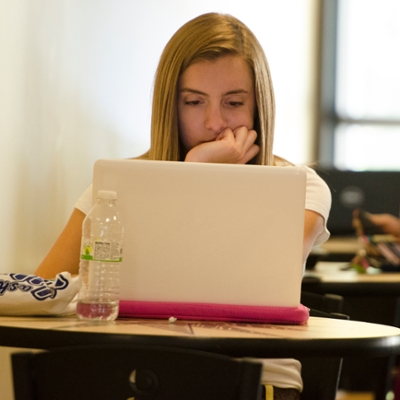 How and where to use your credit card at Washburn
We do not accept credit card payments at the cashier windows in Morgan Hall. We will accept cash, check, or money order, and payments from a PIN-based debit card.
Credit card payments towards student account balances can only be made online via the TouchNet PayPath Payment Service, accessible to students and authorized users through WU-View.
Computers will be available in the Student One Stop located in the Welcome Center of Morgan Hall for those needing assistance with the online payment process.
Online payments using an electronic check (webcheck) or signature debit card (a Visa or Mastercard logo must be on the front of the card) are available at no cost.
The service fee is clearly stated in three places before the payment is processed, and the payer must agree to the fee before the payment can process.  For this reason, any disputes of the fee are between the payer and their bank.
1. Why is Washburn charging a fee for the use of my credit card?
The service fee is charged by TouchNet PayPath to cover the cost of processing credit card payments. Washburn does not receive any portion of the service fee.
2. Who establishes the service fee percentage?
TouchNet PayPath establishes the rate, currently 2.95%, to cover processing costs. 
3. Is Washburn the only institution that charges a service fee?
No. Many state and private institutions in Kansas use a provider similar to TouchNet PayPath that charges a fee.
4. Is there any way I can avoid paying a service fee?
Webcheck and signature debit card payments made through WU-View are available without a service fee.
5. If I make a credit card payment in error, will the service fee be refunded?
No.  You must take up any service fee disputes directly with your credit card company.
6. Can I use my debit card to pay online to avoid the service fee?
Yes. Online payments can be made with a debit card that has a Visa or Mastercard logo on the front. If you would prefer to pay with a PIN-based debit card, you can do so at the cashier window in Morgan 103.
7.  Can I make a credit card payment over the phone or through the mail?
No.  This is a security measure that ensures confidentiality of your information.
8. Can I use checks issued by my credit card company to make webcheck payments?
No. These checks can be presented at the cashier windows or sent through the mail, but the routing and account number cannot be used when making webcheck payments online. Credit card companies will not honor checks used electronically.
9. Will the service fee be included on any bill from Washburn?
No. The fee is assessed by TouchNet PayPath as an additional charge when making a credit card payment online.  Washburn does not charge or receive any part of the fee.
10. How will the service fee appear on my credit card statement?
The fee will appear as a separate transaction.
11. Will I be able to schedule a credit card payment when enrolling in a payment plan?
Yes, credit card payments can be scheduled, but the user must pay special attention to the expiration date on the card to make sure the card won't expire before all payments are made. An expired card will result in a failed payment on the scheduled date, which may cause a late installment payment fee to be charged.
GET IN TOUCH
WITH Business Office
Washburn University Business Office
Morgan Hall 103
1700 SW College Ave.
Topeka, KS 66621