Perkins Loans were offered through the summer 2018 semester
Perkins Loans were low-interest loans offered through Washburn for undergraduate and graduate students who demonstrated financial need, as determined by the Financial Aid Office.
The Financial Aid Office awarded Perkins loans as part of an aid package through summer 2018.  After that time, Perkins Loans are no longer available. Unlike other federal loans, the servicing of Perkins loans is managed by the Washburn University Business Office.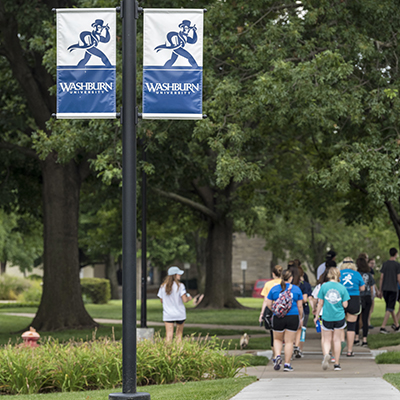 What you need to know if you've received a Perkins loan
If you have received Perkins loans, as long as you are enrolled at least a half-time, the loan will remain in a deferred status with no action required.
If you transfer to another institution and continue attending on at least a half-time basis, the deferred status can continue. However, the student must provide Washburn documentation of enrollment for the deferred status to continue.
Once a student graduates or drops below half-time enrollment, a grace period begins and the student must make repayment arrangements. There are several repayment options available:
If the student is employed in certain professions such as nursing, law enforcement, special education and several other occupations, it is possible to have the loan cancelled.
It is possible to consolidate Perkins loans with other federal loans to lower monthly payments.
Monthly payment arrangements may be made with University Accounting Service to repay the loan.
In the event of temporary financial difficulties due to illness, unemployment or other reasons, a student may be eligible for a forbearance to delay repayment of the loan.
Please contact the Business Office at 785.670.1156 for assistance with any of these repayment options. 
Perkins loans are accepted, just like other financial aid, when the Financial Aid Office makes them available. Perkins loans are not available after the Summer 2018 term.
Once the Perkins loan is accepted, the Business Office notifies University Accounting Services (UAS), an agency used by Washburn to help manage and service Perkins loans.
UAS will email instructions on how to complete the Master Promissory Note (MPN) and entrance counseling for your Perkins loan. You will need the PIN you used for your FAFSA to complete this step.
Once the MPN and entrance counseling requirements have been satisfied, the loan funds will be disbursed to your student account.
After disbursement, any excess financial aid will refund to you according to the refund schedule for the term.