Tax credits can help you offset the cost of college
The federal government has established two tax credits intended to help you offset the costs of higher education by reducing the amount of your income tax according to IRS Publication 970. They are the American Opportunity Tax Credit (AOTC) and the Lifetime Learning Credit (LLC). Additional information concerning these tax credits may be obtained from the IRS website.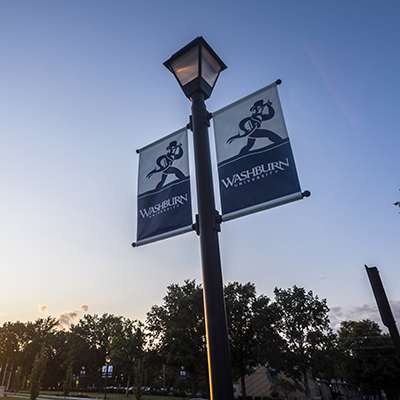 Washburn provides 1098-T forms
In order to assist you in claiming these tax credits, Washburn annually provides enrolled students with a Form 1098-T that supplies part of the information required to complete the necessary tax forms. Forms are not required for students who are non-resident aliens or for students taking non-credit courses.  The Form 1098-T is NOT an income reporting document.  It is an educational institution information return, required by the IRS, that can assist the student in determining if they are eligible to take an education tax credit.  Please note that the Form 1098-T may not provide all of the information needed to determine eligibility for tax credits and deductions.  Eligibility for any tax benefit depends on your individual facts and circumstances.
ECSI is the company Washburn uses to assist in complying with Form 1098-T requirements. After the forms are processed in January of each year, they are available online for those students who opt-in for electronic delivery (an email is sent to students in November of the reporting year with instructions on how to opt-in to ECSI).  If a student does not opt-in before December 31 of the reporting calendar year, the form is mailed by the following January 31 as required by the IRS.  Once a student has opted in for electronic delivery, the opt-in email remains in place indefinitely. For this reason students are encouraged to use a personal email address.
Unofficial copies of the 1098-T Form are available on the Financial Services tab of MyWashburn.  Details of the amounts included on the 1098-T form are shown on the same page. 
A student's address is required for the preparation of the form.  Forms are issued first to a student's permanent address, and if none is available to a student's current address. To update either address, students can sign into MyWashburn and then go to the "Update Your Address Information" link on the Financial Services tab.
If a student's Social Security Number is missing, a 1098-T form will be issued with a temporary ID generated by ECSI.  If we do not have your SSN on file and you wish to receive a 1098-T that includes your SSN, please complete Part 1 of the Request for Student TIN form along with Part II or Part III depending on your circumstances.
Please note that your SSN will only be used for the purpose of preparing Form 1098-T. Completed forms can be brought to the Student One Stop in Morgan Hall or mailed to the address on the form.  
Please do not send the Request for Student TIN forms via email. International students who are considered to be non-resident aliens for tax purposes may receive Form 1042-S rather than (or in addition to) Form 1098-T.
Information provided on the 1098-T form (beginning in tax year 2018)
Frequently Asked Questions: 1098-T forms (beginning in tax year 2018)
Information provided on the 1098-T form (prior to tax year 2018)
GET IN TOUCH
WITH Business Office
Washburn University Business Office
Morgan Hall 103
1700 SW College Ave.
Topeka, KS 66621